Branch Libraries
Central District
Southern District
Western District
Northern District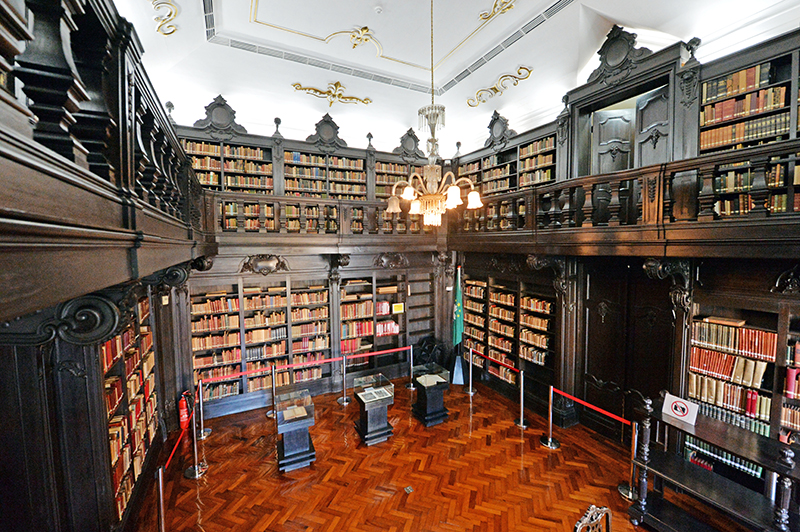 Senado Library
Opening Hours:Monday to Saturday 13:00 - 20:00
Activities: Exposição e Palestra "O papel de Macau na transmissão da tecnologia de impressão ocidental para o oriente" [+More]
Location:Av. Almeida Ribeiro N.º 163, Edf. do IAM, Macau
Telephone:(853) 2857 2233
Fax:(853) 2831 2772
Services
Senado Library ﹣ Services
Location
Service / Function / Use
Storey
Zone
First Floor
Reception
&
Reading Area

Access to newspapers and periodicals
Access to reference materials
Internet
Access to electronic databases, such as Wisers Information Portal and Electronic Resources of Macao Public Library, etc.
Online Retrieval (Webpac)
Access to microfilms
Photocopying service

Attic
Rare Books Area
Facilities
Senado Library ﹣ Facilities
Location

Seats

Facilities

Storey

Zone

First Floor
Reception & Reading Area
8

2 computers (Webpac and Internet)
1 microfilm machine
1 photocopier

Attic
Rare Books Area

--
Introduction
Senado Library is located on Av. Almeida Ribeiro (San Ma Lo) inside the Municipal Affairs Bureau Building (IAM Building). The library is based on the design of Biblioteca do Convento de Mafra in Portugal, and a strong classical style is evident in the decoration and furnishings. Noticias de Macau had reprinted an article originally published in the South China Morning Post in 1949 and published its own commentary on in 1951, praising the design of the library as one of the most luxurious libraries in the Orient at the time.
The library opened in 1929, the predecessor to the Macao Central Library, and is one of the libraries with the longest service history in Macao plus the most valuable collection. Currently, the library specialises in collecting foreign rare books from the 17th to mid-20th Century, in particular the historical documents of Portugal in Africa and the Far East, many of which are rare treasures.
In addition, the library keeps Portuguese newspapers published in the late 19th and early 20th Century, including the Portuguese newspaper A Abelha da China first published in 1822, which was the first journal published by foreigners in the territory of China, and was also the first newspaper in Macao. All rare books placed in the library require special preservation, and may only be viewed inside the library.
The IACM Building Library occupies a total area of 454.9 sq. m., with seating for eight, providing for access to newspapers, periodicals and microfilms, foreign rare books, foreign language back-issue newspapers and periodicals, broadband internet, and so on. Its collection primarily features ancient books in foreign languages and historical Portuguese documents from Africa and the Far East; the library currently houses a collection of approximately 20,000 volumes, 46 current newspaper titles and 121 titles of bound back-issue newspapers plus periodicals.