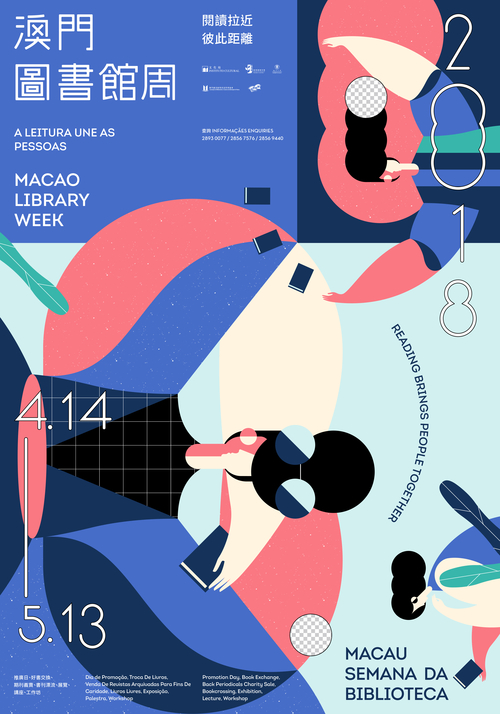 Macao Library Week 2018
To echo the 'World Book Day' on 23 April, a series of activities have been organised jointly by Macao Public Library under the Cultural Affairs Bureau, the Education and Youth Affairs Bureau , Library of the University of Macau and the Macao Library & Information Management Association. The activities of Macao Library Week 2018 will be themed "Reading Brings People Together" to promote reading culture in the city.
Reading starts with individuals and is a self-learning process that can draw us closer to our favourites through the acquisition of knowledge. Reading builds our way to the world with books serving as the bridge. Reading gathers like-minded people and inspires their journey of looking for a spiritual common ground. Reading also brings hours of family pleasure, with their hearts getting imperceptibly close through the brief but touching moments. Reading opens doors to knowledge and leads to a better understanding of the folkways and landscapes of different regions worldwide, thus drawing people closer to each other, to knowledge and to the world.
Activity Details
Macao Library Week 2018—Promotion Day
Venue:Old Court Building
Date:2018/4/21(Sat) - 4/24(Tues)
Date

Time

Activity

Lecturer / Instructor

Participants

Content

Enquiry

Registration / Admission

4/21 (Sat)
|
4/22 (Sun)

10:00 - 19:00

Book Exchange

---

Public

Exchange scorecard for your favourite books of equivalent value at the 'Book Exchange' venue in Old Court Building.

2893 0077
2855 8049
2884 3105

Free access

4/21 (Sat)
|
4/22 (Sun)

10:00 - 19:00

Old Court Building, Taipa Library, Centre of Permanent Education of the Education and Youth Affairs Bureau

Back Periodicals Charity Sale

---

Public

Macao Public Library will be selling back periodicals dated 2017 for charity to make the most of public resources and help people. Each person may purchase a maximum of 20 periodicals. All proceeds will be used to purchase books and reading equipment to be donated to non-profit organisations in Macao.

2893 0077
2855 8049
2884 3105

Free access

4/21 (Sat)
|
4/22 (Sun)

10:00 - 17:00

Reading Game Booths

---

Public

Game booths are specially designed for the promotion of reading and can be used as a model for such promotion in school libraries.

6697 6977
8822 8170

Free access

4/21 (Sat)

10:30-11:00

The Opening Ceremony of the Macao Library Week 2018

---

Public

To kick off the Macao Library Week 2018

2893 0077

Free access

4/21 (Sat)

11:00-12:00

Reading Accessories Workshop: Tie-Dyed Notebook DIY

The Macao Institute of Learning Organization

Children aged 3-12 and parents

A notebook is always a helpful tool for taking notes from reading. With the tie-dyed cover, the users can scarcely part with it.

2842 2780
2856 9440

Register first and enrol upon ballot results
Registration:3/12-18
Ballot results released: 3/19
Enrolment: 3/20-26
www.dsej.gov.mo/cep

4/21 (Sat)

11:30-12:30

Public libraries @
Smart city

Wu Jianzhong, University Librarian, University of Macau Library

Public

Librarian Wu shares stories of the public libraries.

8822 8170

Register via telephone or email to lib_ref@umac.mo

4/21 (Sat)
|
4/22 (Sun)

10:00 - 17:00

Old Court Building

"The Best German Book Design" Exhibition

---

Public

In collaboration with Goethe-Institut Hongkong, books honoured 'The Best German Book Design' in 2017 to be showcased and introduced.

6697 6977

Free access

4/25 (Wed)
|
5/3 (Thurs)

08:00-24:00

University of Macau Library

5/7 (Mon)
|
5/19 (Sat)

10:00-17:00
Macau University of Science and Technology Library

5/25 (Fri)
|
6/3 (Sun)

(Mon)
14:00-24:00

(Tues to Sun)
08:00-24:00

Patane Library

4/21 (Sat)

Class A :
14:00-15:30

Class B :
16:00-17:30

Colourful Graffiti Wall

Minnian,
Sky

Children aged 4-7 and parents

A painting instructor, who has abundant experience in giving children painting inspiration, will read stories and guide the little painters to draw graffiti on the wall, based on the story content.

2893 0077

Online registration, admission by computer lots
Enrolment:3/20-4/11
www.icm.gov.mo/eform/event/c/5/

4/21 (Sat)

15:30-16:30

Light Clay Workshop: Animals - Polar Bear and Penguin

The Macao Institute of Learning Organisation

Children aged 3-12and parents

Learn about different types of animals by creating them in light clay.

2842 2780
2856 9440

Register first and enrol upon ballot results
Registration:3/12-18
Ballot results released: 3/19
Enrolment: 3/20-26
www.dsej.gov.mo/cep

4/21 (Sat)

17:00-18:00

Reading Accessories Workshop: Book Ownership Stamp DIY

Every time you buy a book you may wish to add a personal touch. A DIY book ownership stamp can perfectly satisfy such a wish by embellishing your books with your own personal touch.

4/22 (Sun)

11:00-12:00

Reading Accessories Workshop: Hand Painted Canvas Bag DIY

You usually borrow books when visiting a library. DIY canvas bags are good-looking, practical and environmentally friendly.

4/22 (Sun)

15:30-16:30

Light Clay Workshop: Plants - Rose and Sunflower

Learn about different types of plants by creating them in light clay.

4/22 (Sun)

17:00-18:00

Light Clay Workshop: Rare Wild Animals in China - Golden Snub-Nosed Monkey

Learn about rare animals in China by creating them in light clay, and learn to care for our motherland.

4/22 (Sun)

10:30 - 12:30

Fun Facts about Classic Toys

Minnian,
Sky

Children aged 4-7 and parents

Through the making of old-time toys, and introducing the little-known stories behind them, parents are able to revisit their childhood memories, while sharing with their little ones the fun and joy of playing with toys.

2893 0077

Online registration, admission by computer lots
Enrolment: 3/20-4/11
www.icm.gov.mo/eform/event/c/5/

4/29 (Sun)

10:30 - 12:30

Wong Ieng Kuan Library in Luís de Camões Garden

2895 3079

4/22 (Sun)

14:00 -15:30

Move Your Body

Mabina, Herbert

Children aged 4-7 and parents

With a series of frequently-used theatre techniques, such as making simple body movements, playing games and exercising role-play, parents and children are able to enjoy the pleasure of acting-related activities, and strengthen the bond between each other while working closely together.

2893 0077

Online registration, admission by computer lots
Enrolment: 3/20-4/11
www.icm.gov.mo/eform/event/c/5/

5/6 (Sun)

10:30-12:00

Taipa Library

2884 3105

Online registration, admission by computer lots
Enrolment: 3/20-5/2
www.icm.gov.mo/eform/event/c/5/

4/22 (Sun)

16:00-17:30

The Music Playground

Mabina, Herbert

Children aged 4-7 and parents

Through experimenting with different musical instruments, and playing rhythm games, children can relax and grow in the realms of music. The experience of the real-life instruments will help children to connect their theoretical knowledge with folk music, or music from all over the world.

2893 0077

Online registration, admission by computer lots
Enrolment: 3/20-4/11
www.icm.gov.mo/eform/event/c/5/

5/6 (Sun)

15:00-16:30
Sir Robert Ho Tung Library

Online registration, admission by computer lots
Enrolment:3/20-5/2
www.icm.gov.mo/eform/event/c/5/

4/23 (Mon)
|
4/24 (Tues)

13:00 - 19:00

Bookcrossing
* Reserved for schools on 23 April
* Open to public on 24 April

---

Public

Residents can bring home books and periodicals for free or pass them on to friends so that every single one of them can be fully used.

2893 0077
2855 8049
2884 3105

Free access
Macao Library Week 2018—Other Highlights
Date

Time

Venue

Activity

Lecturer / Instructor

Participants

Content

Enquiry

Registration / Admission

3/1
(Thurs) |
4/8 (Sun)

(Mon)
14:00-20:00

(Tues - Sun)
08:30-20:00

except public holidays

Macao Central Library, Sir Robert Ho Tung Library, Patane Library, Ilha Verde Library, Mong Há Library, Library in Ho Yin Garden, Wong Ieng Kuan Library in Areia Preta Urban Park, S. Lourenço Library, Taipa Library

Collection of Book Exchange

---

Public

Any residents interested in participating in the "Book Exchange" activity can bring their book collection to the Bureau's libraries and receive the "Stamped Scorecard". During the activity's promotional period on 21 and 22 April, residents can exchange books of equivalent value to the value accrued on their scorecard.

2893 0077
2855 8049
2884 3105

Free access

(Mon - Sun)
13:00-19:00

except public holidays

Coloane Library

April to July

April

Youth Centre of Bairro do Hipódromo and Centre of Experimentation for the Youths

Library Collection Exchange

---

Public

The Youth Centre of Bairro do Hipódromo will join hands with the Centre of Experimentation for the Youth, the Youth Activities Centre of 'Exterior Port', the Youth Activities Centre of Areia Preta, the Centre of Educational Activities of Taipa and the Lakeside Multi-Purpose Activity Centre respectively to launch Library Collection Exchange from April to July, in order to boost the youngsters' motivation to read.

Youth Centre of Bairro do Hipódromo
Ms. Chan:
2842 5110

Free access

May

Youth Centre of Bairro do Hipódromo and Youth Activities Centre of 'Exterior Port'

June

Youth Centre of Bairro do Hipódromo and Youth Activities Centre of Areia Preta

July

Youth Centre of Bairro do Hipódromo, Centre of Educational Activities of Taipa and Lakeside Multi-Purpose Activity Centre

4/7
(Sat)

14:30-18:00

Centre of Permanent Education of the Education and Youth Affairs Bureau

Library Knowledge Workshop for the 8th Macao Library Volunteers and Work-Study Students Quiz Competition

Macao Library and Information Management Association

Macao Library volunteers and work-study students who have registered to the Quiz Competition

This is a preparatory workshop held for the registered teams of the Quiz Competition to strengthen and enrich their library-related knowledge.

6697 6977

---

4/7
|
6/23 (Every Sat)

11:00- 13:00

Centre of Permanent Education of the Education and Youth Affairs Bureau

English Picture Book Drawing Class

Kan On I

Children aged 4-8 and parents

Through the appreciation of different types of English picture books, this class gradually lead children going through the process of reading, narrating, designing and making picture books, which will stimulate children to read picture books spontaneously and help them develop their own capability of understanding pictures and identifying texts. Children will be given an opportunity to draw their unique picture books with all their favourite characters and scenes.

2842 2780


Register first and enrol upon ballot results
Registration: 3/12-18
Ballot results released: 3/19
Enrolment: 3/20-26
www.dsej.gov.mo/cep

4/15 (Sun)
|
5/25
(Fri)

08:00-24:00

University of Macau Library

Exhibition of Award-Winning Books of the Feng Zikai Literary Award

---

Public

Feng Zikai was an artist who is excelled at painting, calligraphy, literature, education, music and architecture. He created cartoons with the fusion of Chinese and Western painting techniques, depicting the interest of life and showing love for all things.

8822 8170

Free access

4/15
(Sun)
|
5/25
(Fri)

08:00-24:00

University of Macau Library

Exhibition of works by Qin Wenjun

---

Public

Humorous and warm-hearted, Qin Wenjun's novels capture the hearts of many student readers. Her works have won numerous literary awards, such as the Mondello International Literary Prize, and have been nominated for the Hans Christian Andersen Awards.

8822 8170

Free access

4/15
(Sun)
|
5/25
(Fri)

08:00-24:00

University of Macau Library

Exhibition of works by Cao Wenxuan

---

Public

Cao Wenxuan, winner of the Hans Christian Andersen Awards, advocates exposing children to hardship in literature.

8822 8170

Free access

4/21
(Sat)
|
5/9
(Wed)

---

---

The 6th Library Week Children's Colouring Competition

---


Children aged 3-8 with student cards issued by DSEJ;
2 categories:
children aged 3-5 and children aged 6-8.

In celebration of the Macao Library Week, the competition is held to foster children's interest in reading and encourage a better use of Macao's libraries.

6697 6977

The colouring sheets can be obtained at branches of Macao Public Library. Participants may submit the completed work together with the application form to the collection boxes in the Macao Public Libraries (competition results to be announced on the Facebook page of Macao Library and Information Management Association in mid-June).

4/21
(Sat)

15:00- 17:00

Sir Robert Ho Tung Library

Thematic Talk: Taste Nature

Joe Chan,
Environmental Educator and Activist

Public

Through reading wisdom literature and the engagement with the five senses—sight, sound, smell, taste and touch, participants can embark on a spiritual and physical journey among books, nature and food thereby learning about the natural environment of Macao from different perspectives, and looking into the important topic of the co-existence of mankind and nature.

2893 0077

Online registration, admission by computer lots
Enrolment: 3/20-4/17
www.icm.gov.mo/eform/event/c/5/

4/22
(Sun)
|
4/29
(Sun)

10:30-17:30

University of Macau Library

University of Macau Library is recruiting off-campus readers

---

Public

Through simple application procedures, interested off-campus students and teaching staff can now apply to access the University of Macau Library.

8822 8170

---

4/22
(Sun)

14:30-15:30

University of Macau Library

Guest Lecture @ UM Library

Prof. CHENG Pei-kai

Public

Topic : Tea Utensils at Famen Temple and Tea Culture in the Tang

8822 8170

Register via telephone or email to lib_ref@umac.mo

4/22 (Sun)

15:30-18:30

University of Macau Library

An assemblage of Macao artists in Chinese calligraphy and painting

---

---

To welcome the Library Week, practitioners of the cultural industries will gather together to share artistic views and engage in co-creation of Chinese calligraphy and painting.

---

Free access

4/23 (Mon)

14:00 - 19:00

Taipa Library, Dance Room - Centre of Permanent Education of the Education and Youth Affairs Bureau

Periodical Crossing

---

Public

Residents can bring home periodicals for free or pass them on to friends so that every single one of them can be fully used.

2884 3105
2845 1830

Free access

4/27
(Fri)

15:00-16:00

University of Macau Library

Conversations with Leading Academic and Research Library Directors: International Perspectives on Library Management

Dr. Dickson Chiu, University of Hong Kong

Dr. Patrick Lo, University of Tsukuba

Public

This lecture, through studying a selection of success stories of several Hong Kong school libraries and presenting the overall potential benefits of school library projects and enquiry-based learning, introduces to the Macau Academic Library Alliance the development, nature, history and pedagogical potential of school libraries and other libraries nowadays, as well as to give the Alliance an insight into the importance of promoting a reading culture.

6697 6977

Register via email to macau.mlima@gmail.com

4/27
(Fri)

17:00-19:00

Pui Ching Middle School

2018 Reading Forum ( I ) – Professional Lecture on Library Management for Reading Promoters

Dr. Dickson Chiu, University of Hong Kong

Dr. Patrick Lo, University of Tsukuba

Teachers of primary and secondary schools, reading promoters

A well-designed school library plan has a positive effect on enhancing students' academic achievements. However, most principals, teachers and parents do not have a clear understanding of the potential benefits of school library projects and enquiry-based learning.

This lecture, through studying a selection of success stories of several Hong Kong school libraries, aims to examine the development, nature, history and pedagogical potential of school libraries and other libraries nowadays, in order to improve public awareness of the job and contribution of library staff. It also encourages Macao library staff to improve the current situation of local school libraries by understanding the importance of promoting reading.

6697 6977

Register via email to macau.mlima@gmail.com

4/28
(Sat)

14:30-18:00

University of Macau Library

The 8th Macao Library Volunteers and Work-Study Students Quiz Competition

---

Macao library volunteers and work-study students

This exciting quiz competition will, increase participants' interests in libraries and impart extensive knowledge of library services to them, which is not only helpful to their work, but also enhances their sense of belonging to the library.

66976977

Register via email to macau.mlima@gmail.com

4/28
(Sat)

15:00 - 16:00

Old Court Building

Award Ceremony and Exhibition of Winning Entries in '4‧23 World Book Day Creative Competition 2018 in Guangdong, Hong Kong and Macao'

---

---

Awards of the Guangdong-Hong Kong-Macao 4.23 World Book Day Creative Competition (Macao) will be presented. Awarded works will be displayed in the Old Court Building on the same day as well as in local libraries and schools on tour during May and October this year.

2893 0077

---

4/29 (Sun)

15:00 - 17:00

Wong Ieng Kuan Library in Luís de Camões Garden

Library Orienteering for the Family—Detective Scavenger Hunt

Mabina, Panda

Children aged 7-12 and parents

Absent-minded grandpa has left his grandchildren's picture books in different corners of the park. Parents and children can be the detectives to help grandpa find those books who will have to overcome a number of challenges in order to retrieve the books and return them to the library.

2895 3079

Online registration, admission by computer lots
Enrolment: 3/20-4/11
www.icm.gov.mo/eform/event/c/5/

5/13 (Sun)

10:30 - 12:30

Taipa Library

2884 3105

Online registration, admission by computer lots
Enrolment: 3/20-5/2
www.icm.gov.mo/eform/event/c/5/

5/2
(Wed)

15:30-16:30

University of Macau Library

Library Director's Governance Philosophy

---

Public

Librarians share with you their philosophy of managing libraries.

8822 8170

Register via telephone or email to lib_ref@umac.mo

5/12
(Sat)

14:00-17:00

University of Macau Library

Reading Education Seminar and School Staff Meeting for Library Week 2018

---

Teachers of primary and secondary schools, reading promoters

In response to the Library Week, the Reading Education Seminar and School Staff Meeting will be held during this period. This opportunity provided by the Library Week allows the staff from different schools to exchange their views and experience in promoting reading education.

6697 6977

Register via email to macau.mlima@gmail.com

5/12
(Sat)

14:00-15:00

University of Macau Library

Multiple Reading: Talk on Reading Education by School Library Representative from Guangxi Province

Li Jiaquan, Library Director of Nanning No.3 High School in Guangxi Province

Public

By sharing the success stories of Mainland school libraries, this talk aims to give Macao library staff an insight into the current development and pedagogical potential of school libraries and other libraries. It encourages Macao library staff to improve the current situation of local school libraries by understanding the importance of promoting reading.

6697 6977

Register via email to macau.mlima@gmail.com

5/12
(Sat)

15:00- 17:00

Sir Robert Ho Tung Library

Thematic Talk: The Literature Landscape of Macao

Eric Chau- Macao Writer

Public

In the talk, the writer will cover several aspects: his personal experience in reading, writing and engaging in the literary sector of Macao; an analysis of the current situation and development of the literary industry in Macao, and the different publishing possibilities apart from the traditional method, based on his observation of the environment, for creative work and the publishing market of Macao; guided reading of several literary works to illustrate the different strategies, and directions on Macao-related writing; introduction of representative Macao writers and their works, including novels, modern poetry and prose (one writer for each genre).

2893 0077

Online registration, admission by computer lots
Enrolment: 3/20-5/2
www.icm.gov.mo/eform/event/c/5/

5/13
(Sun)

14:00-15:00

Sir Robert Ho Tung Library

Award Ceremony of the 8th Macao Library Volunteers and Work-Study Students Quiz Competition

---

---

 ---

6697 6977

---

5/13
(Sun)

15:00-17:00

Sir Robert Ho Tung Library

2018 Reading Forum: II – Lecture on 'Power of Picture Books – Appreciation and Application of Books Winning the Feng Zikai Chinese Children's Picture Book Award'


Jenny Poon and Pearl Poon - Hong Kong authors

Teachers of primary and secondary schools, reading promoters and picture book lovers

Hong Kong authors and university lecturers Poon Kam Ying and Poon Ming Chu will share with lovers and teachers of children's literature their experience of participating in Chinese picture book forums, as well as activities of and exchanges related to the Feng Zikai Chinese Children's Picture Book Award. Amid the recent booming development of Chinese picture books, the Feng Zikai Chinese Children's Picture Book Award has contributed significantly in terms of nurturing and encouraging the creation and publication of picture books in Chinese. By starting the lecture from how to read and appreciate the award-winning picture books such as About Where Does Rice Come from, Where Is the Hero and Grandma Lin's Peach Tree, the Poon sisters will give the participants a deeper understanding on the characteristics of Chinese picture books and enlighten them about the appreciation thereof, along with their guide to the application of and creating tips for such books.

6697 6977

Register via email to macau.mlima@gmail.com